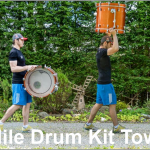 Please take 5 minutes to read our blog!
From Linda & Ray Thomas - Directors of R M Labels:
We are so proud to support our younger son Bob, who is undertaking such an incredible challenge for such a good cause, please read on… Bob is a full time musician and drum teacher. Almost 14 months ago he set himself the mammoth challenge of towing his drum kit 100 miles non-stop from Cardiff back to his home in Pembrokeshire (which turns out is actually about 110 miles in total!!!), Bob will then set up his drum kit and play a gig with his band! Bob gave himself just over a year in which to train for the event and after many, many hours of blood, sweat and tears, the training is done and he will be starting this epic challenge at 8pm on Thursday, 22nd July 2021!
Starting point:
8pm on Thursday, 22nd July 2021 - Outside Drum Depot, The Old Warehouse, Penarth Road, Cardiff, CF11 8TT (Bob's favourite drum store!)
Pulling his entire drum kit, right down to his seat, sticks and all, on an adapted trailer with a total weight of around 150kgs! Bob envisages the distance will take him around 48 hours, with only short 10-15 minute breaks throughout. He will pass through Swansea, Llanelli and Carmarthen before reaching his home county of Pembrokeshire, Bob will continue on, passing through Haverfordwest, before finally arriving in his home village of Letterston in the late afternoon on Saturday, 24th July 2021, some 110 miles later!! If you are anywhere along the south coast of Wales over those couple of days, please look out for Bob, cheer him on and pop a donation in his bucket!!!
And it doesn't finish there…
THEN… The gig:
Once he arrives, Bob will take to the stage, set up his kit and play a full set with his band.
Due to COVID-19 restrictions, unfortunately the gig has had to be limited to a small, socially distanced event for a few family members, friends and neighbours. However, the gig will be live streamed, link below.
Why CRY:
12 years ago we lost our beautiful daughter Sarah, at the age of 16, Bob was just 11 at the time and his brother Mike was 18. Sarah was a clever, fun-loving and outgoing young girl who we all miss so much and this is why as a family, this is a charity close to our hearts. Raising awareness and supporting CRY's work is so important to us.
CRY is an amazing charity that is working hard to raise awareness of the risk of cardiac arrest in the young (ages 14-35), it offers support to families, medical screening and carries out vital research.
Thank you for taking the time to read this, please come and cheer Bob on along the route if you are in the area, and please donate if you can, link below:
Finally, Bob has documented his 14 month long training plan in videos that can be found on his YouTube channel, why not check out some of the crazy training plans he has undertaken over the past year or so - the Christmas Day challenge was definitely one of the craziest!!!