Valve Tag Sets and Drawings
Give the end user an understanding of their entire domestic plumbing and heating systems in an easy to understand format with our Valve Tag Sets.
These tags are fully customisable and they're designed for:
Gas Shut-off Valve Labels
Hot and Cold Water Valves and Plumbing Labels
Reclaimed Water and Domestic Sprinkler Valve Labels
These tags are attached to the shut-off valves, giving the end-user the information they need in a heating or plumbing emergency.
Customised Valve Tags Sets
These sets can be customised with your company name, logo and contact details. Check out our examples below and request a quote and we'll put your requirements together.
Gas - For outside the property and communal areas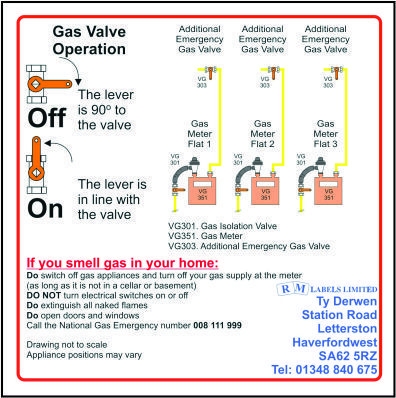 1. Label shows which meter belongs to which property
2. Available with door numbers on each tag
Gas - For inside the property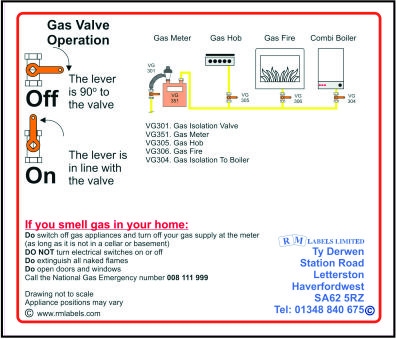 1. The drawing shows every gas appliance installed in the property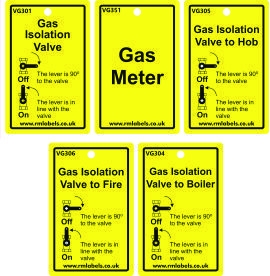 2. Each tag shows which valve turns off which appliance
Hot and Cold Water Services
We will design the drawing to your requirements - tell us how many floors the building has and what appliances are on each floor - we will do the rest! This example drawing shows all the appliances installed in a property based on a single storey dwelling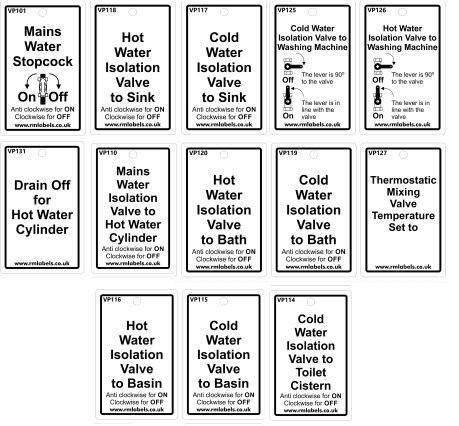 Comes with the corresponding tags to be placed on the valves of each appliance with instructions on how to turn them off.
Heating System (Incorporating Header Tank)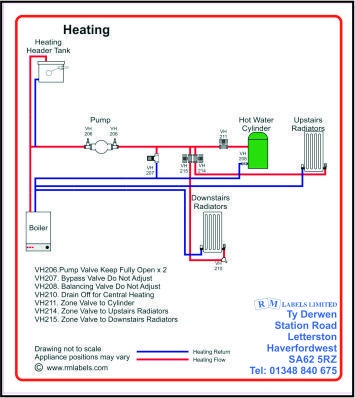 Tell us what you are heating and what type of boiler it is.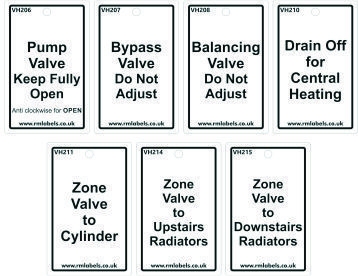 Example of a label and the corresponding tags for a Heating System incorporating a Header Tank.
Heating System (Boiler With Cylinder)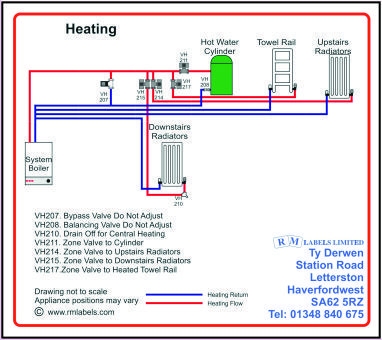 Tell us the plan type, ie: S Plan, S+ Plan, Y Plan, C Plan or if it's underfloor heating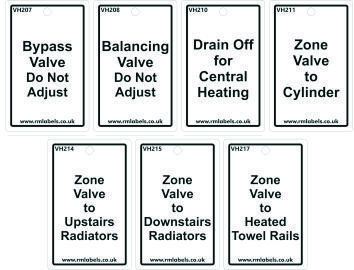 Example of a label and the corresponding tags for a Heating System with a boiler and hot water cylinder
Get a Quote
Tell us what system labels and tags you require and we'll do the rest!